Last Saturday I headed over to Bognor to the SWING exhibition, which has now established a reputation for having a good selection of industrial and narrow gauge layouts. Though I think it has struggled to keep the same small and friendly feel in the larger venue, it has allowed more layouts - and bigger ones too, such as the live steam 16mm scale.
Strangely I still like the small ones best though, like Compass Point by Chris O'Donoghue in 009. It packs in a lot of detail in a small space, and achieves that atmosphere that is impossible to define.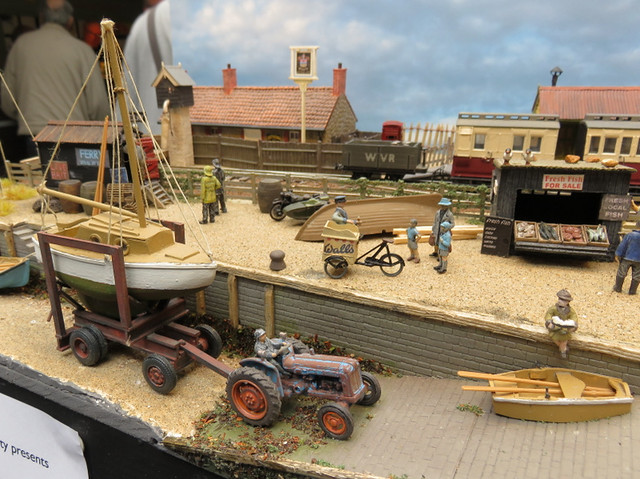 Chris Ford and Nigel Hill's ultra-simple and quite different Morton Stanley is also full of atmosphere, following the "less is more" route in 7mm scale.
Abbey End is David Malton's O14 model of the terminus of the Abbey Light Railway in Leeds, though sadly now closed. Despite being a simple prototype David has captured the woodland setting, with the varied and colourful stock, and achieved a fascinating model
Portwenn is a delightful 7mm scale layout with an attractive quayside, now in the new ownership of Simon King I hope it gets to more exhibitions.
Simon Wilson brought Wangford, just part of his Southwold Railway layout in 009. As this board is normally at the back of the layout it is nice for it to be more visible, and the simple set-up with a fiddle yard each end allows a procession of trains through the station.
Those are just a few of my highlights -
you can see more photos here
. Trade support was good too, with some narrow gauge specialists as well as both the 7mm NGA and 009 society sales stands. Not that I got much time to browse with my Son nagging, however he really enjoyed making a tree for his layout as guided by a very patient chap on one of the demo stands - a nice touch - and the ride-on train too.